My fascination with sampling began with my Ensoniq EPS which I bought second-hand in 1989 and still own

Sampling was nothing less than a frigg'n revelation...My sister and I sat recording silly voices into that thing for bloody hours playing them up and down the keyboard until it crashed or dad came in to check if we'd gone insane. (Before it crashed) I remember us all being gobsmacked by how similar her voice sounded to mine when played down a few semi-tones. The family connection meant that the tonal likeness was uncanny. We'd say a line, reverse it and learn it in reverse then record that and flip it back the right way to create that bizarre Twin Peaks dwarf voice sort of sounding like we were deaf. Then it would crash...  
After another reboot and exhausting the usual farts, screams and slowed down ruler wobble over the desktop sounds, our tastes matured and we moved on to more high class sounds we'd heard from Boris Blank on Yellow albums like "ohhh yeahhh" and "chikkachikkah...Bom bom". Classy, pants-wetting stuff this sampling.
With it's whopping great 512KB of memory and mono recording, I'd found a way of linking/stacking and panning sounds for stereo playback but knew I'd never get around that memory limitation. Hmmm...What next? 
This experimentation set me up well and I even managed to curb the crashing to once every now and again. In fact crashes were obviously what the designers had anticipated as it had a hinged top panel to easily access the insides should/when something was to go wrong. And it always did...usually right when you were feeling the onset of "i've got a monster hit coming..." 
Thanks to watching my dad build and fix things as a kind Whilst training as an instruments technician, I'd developed a thirst for understanding how things worked and had the beast in parts before long dissecting trying in vain to learn how it worked...I mean didn't work. That year I started collecting electronic drum gear too and picked up a broken Roland Octapad Pad80 the owner promised was a quick fix. Luckily It was and nursing that back to health gave me a good boost and soon I started to cast the net wider even building my own trigger pads and making a trigger glove with 5 triggers in the fingers so you could play the drums on a desktop with one hand. Fun! 
Roll-on five or so years later and I found myself working on the 4th floor in the keyboard department of Brash's music store at 108 Elizabeth Street Melbourne. Me a drummer in a keyboard section?
I loved it! These were happy and productive times...There's nothing like talking about and working around music gear all day and playing music all night to catch a dose of gear lust then abruptly kill it! Someone once said "DON'T TURN YOUR HOBBY INTO YOUR DAY JOB"... If you do, you will make some life-long friends along the way though.
My second-biggest motivation for going to work was thanks to co-worker, newly found friend, synthologist, synth guru, mono-synth fanatic collector Steve Williams. 
Steve's music technology knowledge was and still is epic and his stories of playing Radio City Music Hall with his band Real Life left me in awe and fed my quest for rockdom and thirst for knowledge...oh, and of course gear.
So It was my birthday and Steve had turned up to work with what looked like a garbage bag full of hard rubbish stuff he'd carried to work on the tram.  
Inside was a Korg VC-10 vocoder which he presented to me.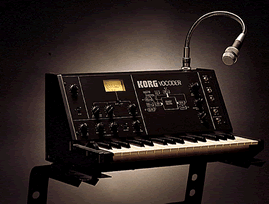 I love that thing...The next few weeks were a blur of creation with most of my time spent trying to write pieces around the new beast.
I had the bug bad and it wasn't long before I snapped up Steve's partially working Roland SH-5 with the tip that "on that front panel is everything you need to know about analog synthesis". So true.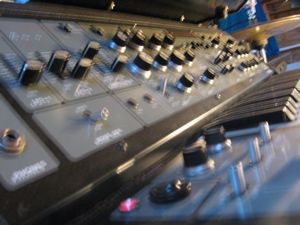 Within days I'd fumbled my way around and accidentally repaired the faulty band-pass filter by simply re-soldering everything that looked dull.(duh) That seemed to work miracles so I then hard-wired the main connectors to bypass the oxidised terminals and generally cleaned up the synth although a broken key remained until just recently (thanks eBay!). I think the SH-5 is still my favourite object I own along with my 67 Morriss Minivan.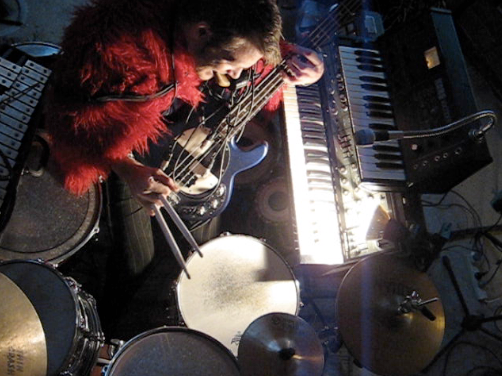 "These are a few of my favourite things..."
It was fitting then that Steve and I became quasi-partners in synth crime. Every Thursday Steve would arrive at work, coffee in one hand, Melbourne Trading Post under his arm and we'd spend the rest of the week, when it got quiet in the store (and boy did it get quiet), trawling through the offers, dialling wrong numbers, speaking to people's mum's about model numbers that mystified them all the while trying hard to keep down the excitement when talking to sellers with their unappreciated synth gems.  
I'd pick at the scraps and ask dumb questions like "what can you chop with an ARP AXE? Who are Serge and Oscar? So can you hit a Linn drum?" but mostly I concentrated on consuming all the names, differences between white and black Odessey's and also on my job as minister for transport. Not having his driver's licence or a car seemed the only kink in Steve's fiendish plan for total-world-synth-collector-domination but boy has he become familiar with bus and train routes and how to get Roland System 100M modular synths in and out of maxicabs.
Before long, the word was out that a Fairlight CMI 2X was coming up for sale somewhere in town. News of any gear for sale generally came Steve's way with little effort...Everyone knew/knows of Steve's synth affliction and I'd often vet the calls like Steve's personal secretary to weed out the Farfisa's from the Fairlight's. Even today, these are almost mythical instruments due to enormous size, who's who user list, musical capabilities and eye watering cost. In 1983 the Fairlight 2X with MIDI sold for the price of an average UK house at thirty thousand pounds! Hmm, tough dilemma. Roof over my head or Fairlight? Fairlight of course...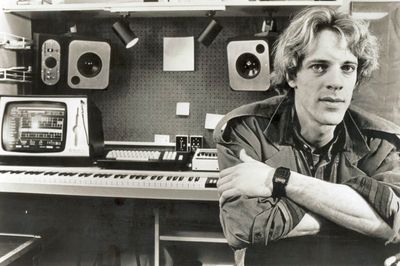 Stewart Copeland of The Police with his CMI home studio
The deal was done, date set, handover place chosen, Mini fuelled so off we went to collect the latest object of desire.
Lucky I'd made extra space in the back as this thing seemed more at home in a server room rather than studio. The only giveaway of it's musical ability being the clunky switch-like musical keyboard. This was the first four-component musical instrument we'd loaded into my trusty little Mini and it groaned under the weight.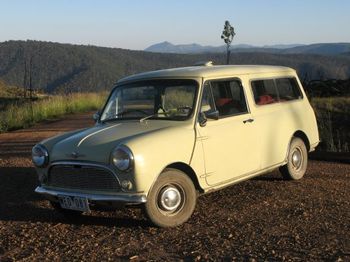 "MALMO" My 67 Morriss Mini Van circa 1993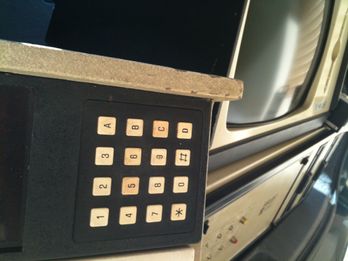 Fairlight CMI 2X unrestored
Back at Steve's, we excitedly attached the music keyboard to the CPU, clicky computer keyboard to the music keyboard, light-pen to the recepticle in the front of the bizarre Dr.Who like green screen VDU, skipped the 8" floppy with the ominous title of "Wrong Side Of Town" instead opting for the more promising "CMI OS 2X" and sipped one last time on our still hot coffees and flipped the key to startup the monster...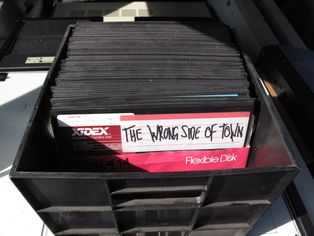 A box of disks that came with the CMI 2X from the "Wrong Side Of Town"
NOTHING!...Nichts...zip...dead. Coffees now long cold and with faces contorted with frustration and disappointment, we resorted to every enthusiastic music makers last port of call... the manual. Power cables connected..1,2,3 umm yes...disk right way round...check...Haha! Restart safe enabled NO! With a flip of a few toggle switches the beast roared to life...PAGE R here we come!
None of the ever escalating whining and hairdryer sounds made us feel any more confident of a successful outcome but after a minute or so of teeth grinding and disk groaning (similar sounds also came from the Fairlight), up came a tasty menu of green items for our appraisal whose functions and purposes most of which would bewilder us over the coming dark hours.
Despite a missing F# key and flaky light-pen, shortcut keys were soon committed to memory (PR-Page R) P1 (menu-so logical!), much joy was had loading sounds and sequences from it's previous life and hitting play to watch it scroll through eight midi tracks of dots in Page R was a memorable experience that even in 1994 seemed truly prehistoric.
At that time in the early 90's, such had been the rate of music technology progress, you could already get a full colour Atari, Amiga, 486 PC or even Apple Mac running any number of MIDI and even some audio tracks tracks with a sample playback card installed for a tiny fraction of the Fairlight's asking price. You'd have to kiss your handy light-pen goodbye and say hello to a mouse while the user's ergonomic pain migrated from the arm to the wrist.       
So time's flown-by, I've since moved overseas and back and Steve nor I have barely sold anything we've bought.
I shouldn't have been surprised then to discover the object on which I'd stubbed my foot one day at Steve's was in fact his sad old yellowing CMI. He explained to me how some ten years previously he'd returned to continue his sequence on it after making a coffee only to find a smouldering mess of white smoke. There and then we made a pact to resurrect the yellow peril and I returned the following day to collect the carcass where it would join me on a road trip up the deadly 867 klm Hume highway back within a stones throw of it's birth place, Sydney's Northern Beaches, Fairlight!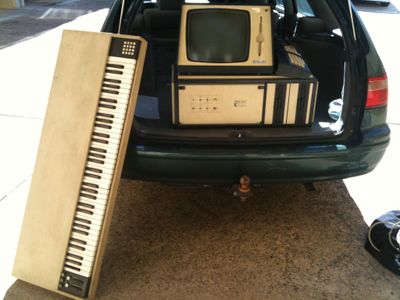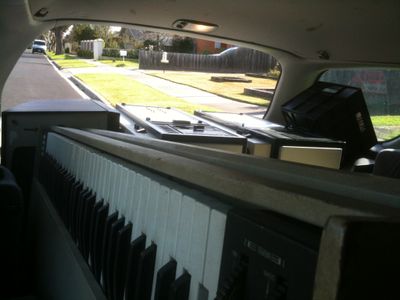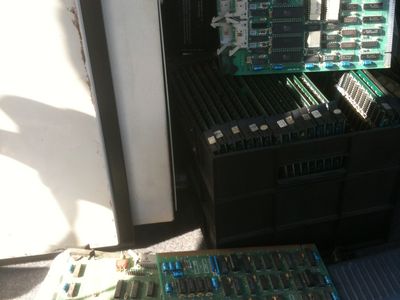 Tune in next time to follow me as the pictorial restoration begins in part 2!