Robostrobe V2 autopanner
The Robostrobe V2 is the most flexible DSP autopanner plugin available with full MIDI sync BPM control and moving light meter for pan position.
____________________________________
"The flexibility of this device is awesome!!!"
____________________________________
Hey, connect one output and you have a fully controllable chopper device as well as autopanner.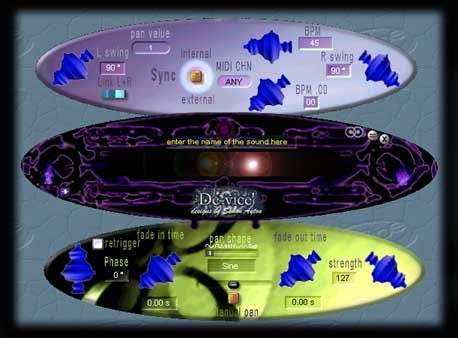 Not only does it excel at smooth movements, it's also possible to make it act in a completely unpredictable way.
Fade in and out times and the width along with the type of movement are also completely adjustable from smooth sine to hard left/right saw, unidirectional and random.
Easily locked via. MIDI to your sequencer, the Robostrobe V2 comes into it's own and lets you precisely synchronise it's speed to your arrangements...a must for complex electronic music.
"Don't waste time drawing in those fiddly automation pans any longer, just stick a Robostrobe autopanner V2 on it!"
F E A T U R E S
Smooth, clickless autopan operation
EVERY plugin control MIDI automatable
BPM lock-sync with MIDI or internal clock switchable
Stereo/mono, insert and project window compatible
Already a classic, the first autopanner plugin of this type for the Scope/Pulsar system
Six wave shapes including Sine, Saw up/down, Triangle, Square and Random
Up to 20,000 BPM panning speed including fine control for fractions of a beat
Low DSP usage for use in every project
Linkable left and right swing distance controls
Manual override pan control