'ISON Trakker' EQ plug-in
Hi-end tracking and mixing oriented features 
with the ISON EQ plugin sound!
equalization.Working quickly with EQ is important when you are in the middle of a complex recording or mix so we designed the ISON Trakker with just this in mind without skimping on the sound quality and features most required.Being the smaller brother of the 'ISON', the 'Trakker' shares the same great sonic quality and much of the flexibility of it's bigger brother and is designed to play a major part in every recording and mix you make.

Why do all EQs sound different?
How an EQ sounds is determined to a large degree by the interaction between the controls.
In a normal digital EQ, as you boost or cut a frequency (Gain), the Q (quality or bandwidth) that you set remains constant no matter how much you boost or cut.
This style of EQ is referred to as having a 'Constant Q' whereas, in a typical analog circuit, precision of that type is very difficult to produce. In an analog EQ, when a frequency is boosted or cut, the bandwidth or Q amount varies due to limitations in the circuit and components through which the signal passes. This constant circuit interaction called 'Q/Gain dependency' results in analog EQs having a different functional and tonal character than digital EQs.
These inherent flaws in analog processing are what actually determine the analog EQ's sound and lead people to label it with words like 'warm', 'smooth' and 'transparent'.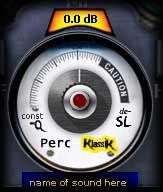 The central meter of the ISON Trakker allows you to switch the style of the EQ from digital constant-Q to classic style with Q/Gain dependency just like high end analog EQs.The overload warning light indicates signal over -0.1dB and includes the overload light reset switch.
The ISON Trakker tackles these phenomena with 4 switchable modes of EQ ranging from digital style with no Q/Gain dependency through to extreme Q/Gain dependency to simulate a broad range of EQ styles as used in famous classic EQs.There's even a percussion mode for reducing ringing frequencies with drum tracks while using the other bands to boost the general high frequencies of the track.
18dB of gain for each band gives you more than enough gain for most situations you are likely to come across in a mix.
 

dynamic D.S.P switching reduces DSP load
The ISON Trakker features the same dynamic DSP switching as the big 'ISON' which means EQ stages that are switched off use almost no DSP power from your Creamware DSP card so you can use just the filters if you like without wasting extra DSP on the other stages.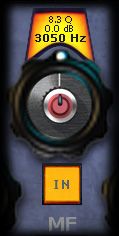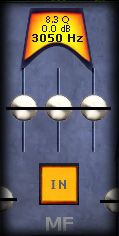 Surface controls are switchable between knobs or faders just like on the full ISON...we still couldn't decide!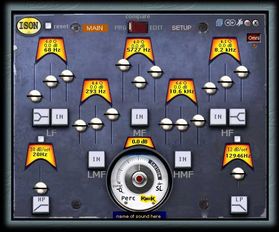 Through 5 stages of EQ with 18dB of boost and cut per band and low and high pass 30dB per octave filters, you can really bring out the presence of your tracks and make them shine through in the mix. The highest and lowest bands of the Trakker are switchable to shelving, allowing broad sweeping boosts and cuts to add sparkle and general low end power.
As early research into EQ has shown, an important consideration with shelving EQ is what happens in the frequency range just below and above the point where the boost and cut in the shelving EQ is occurring. Say, you want to add some sparkle to the top end of a mix but don't want to boost the mid range. This 'overshoot' and 'undershoot' is crucial in reducing the midrange 'honkiness' and low range 'mudiness' often associated with digital, non-interactive shelving EQs.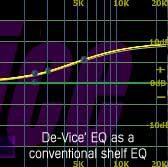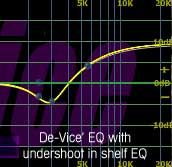 What's going on inside the ISON Trakker that sets it apart from other EQs
The ISON Trakker gives you total control over these problem areas with adjustable 'overshoot' and 'undershoot' for both the high and low shelving sections of the highest and lowest frequency bands. When switched to shelf, the Q control acts as the 'overshoot' and 'undershoot' adjustment allowing the steepness and shape of the shelving curve to be manipulated. This means highs can be nicely boosted without introducing more hi-mid and mid-low boost which can muddy up the EQ's sound.
Decramping is another feature which helps to improve clarity and warmth in the top and bottom ends of the frequency spectrum. Through listening tests of mixes and instrument recordings, we have carefully selected the most pleasing decramping settings which work well for all general mixing needs.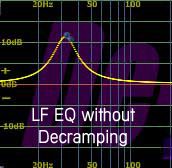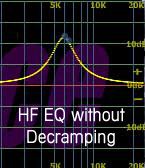 Normal digital EQs can sound harsh as the ultra high and low ends are consequently squashed back down to zero during EQ'ing causing an unnatural effect which is not pleasing to the ear.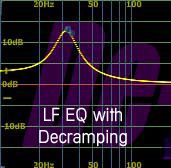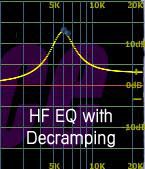 The decramping feature of the ISON Trakker is identical to it's big brother 'ISON' in 'normal' mode and reduces the constriction of these highest and lowest frequency areas and effectively adds 'air' and bottom end presence to the sound as in an analog EQ
design.
FILTERS FROM HEAVEN!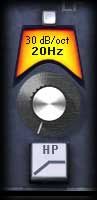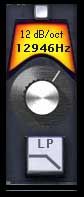 Strangely forgotten about by a lot of engineers when mixing, filters are very important when preparing sounds for recording and mixing. The high and low pass filters of Trakker are switchable in 6dB steps from 12dB to 30dB per octave and are designed for taking out rumble and high end hiss They are great for cleaning up your tracks before recording and giving sounds their own space in the mix.
7 stages of precision EQ with 18dB of boost and cut per band
Dynamic DSP management so bypassed stages use no DSP load!
high and low bands switchable to shelf EQ
additional high and low pass filter sections switchable in 6dB (starting at 12dB) per octave steps to 30dB
Q/Gain dependency to simulate a broad range of analog and digital EQ styles
4 switchable styles of EQ for maximum artistic flexibility
high and low frequency decramped curves for sonic clarity
Controls switchable between knobs and faders
Stereo and mono, project window and mixer insert compatible
Compare function for easy A/B'ing between two settings
Full MIDI control